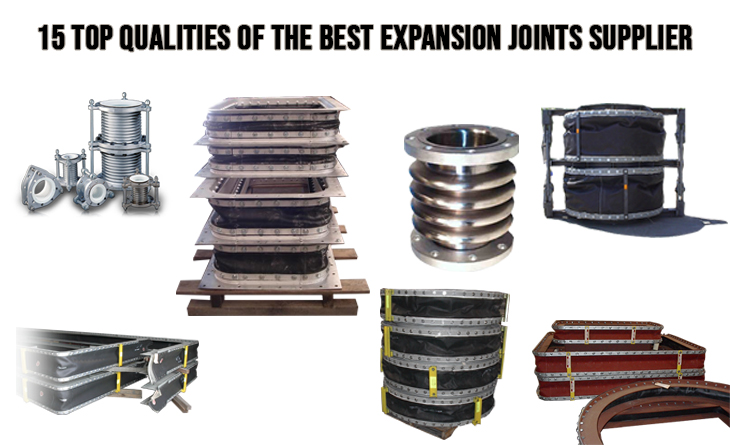 15 Top Qualities of the Best Expansion Joints Supplier
Your search for the best expansion joint supplier ends here. The climatic change and environmental concerns are increasing the need for the correct expansion joint design. Also, the expansion joint materials reduce the contraction and expansion because of temperature and pressure changes. The growing population, infrastructure, transport, and other needs are also increasing the need for more nonmetallic expansion joints worldwide. It is the reason reports suggest its market size is to grow at a CAGR of 4.2% to reach 1669.28 from 1254.26 million dollars between 2022 to 2028. With its increasing need, many manufacturers also produce, supply, and install expansion joints. 
So, check out the good qualities essential for the best expansion joint supplier to suit your need and budget to provide excellent value for the competitive costs for use in construction structures and piping systems to be stable and safe. 
What are the best expansion joint materials?
The flexible metal tube expansion joint was patented in 1920 to evolve for using many other materials. Elastomer or rubber expansion joints became popular, followed by plastic and fabric for their many advantages over metal. Also, because of the rising demand for the best expansion joint design, elastomers, in combination with plastic and metal components, became the best expansion joint materials to provide more performance at reduced costs. Hence you should choose the best expansion joint supplier with all the right qualities to buy the expansion joints as per your requirement at affordable costs. 
Fifteen qualities of the best expansion joint supplier
There is an increase in many structures worldwide, like bridges, buildings, railway tracks, sidewalks, etc. Also, the piping systems need in many industries like oil & gas, chemical, sugar, cement, petrochemical, and others also are on the rise. As these are basic needs for humans, it is on the continuous rise with the increase in population and urbanization worldwide. But these structures and systems must endure a lot of stress because of the extreme seasonal changes that cause expansions and contractions. Only the proper expansion joint design can absorb such high and low temperature and pressure changes. Also, do not forget the correct expansion joint materials to choose per the project purpose. Only the best expansion joint supplier with the right qualities will help to provide the fitting nonmetallic expansion joints with the right metal components for such purposes. A few of the good qualities include. 
Mix many innovative features to provide the best strength-to-weight ratio, high compatibility, and conductivity, which many OEM or original equipment manufacturers prefer to have in expansion joints
Supply all expansion joint market segments, including axial, angular, lateral, universal, etc., with superior dependability, value, and quality
Provide various expansion joints, including fluoropolymers, elastomers, nonmetallic, high-temperature composite joints, and appropriate metal components
Have experienced and expert team to provide innovative expansion joint design and use suitable materials, including the latest polymers, to fulfill customers' needs
Offer customized expansion joints to suit even complex projects that others cannot do by striving to upgrade the design and using new materials. 
Supply high-quality rubber piping expansion joints and metal bellows expansion joints as per the client's requirements with the belief that one-size-fits-all approaches are not suitable
Have many factories in several locations with total transportation access that enables to provide expansion joints and services fast to clients and service them
Provide round-the-clock service having experienced technicians 24 x 7 365 days to assist clients in clearing their queries and also not to have any downtime 
Exceed the expectations of clients to not limit to specific projects to do them of all sizes within the scheduled time without delays or let out in high quality
Have the correct advanced tools and materials and the experienced team with the expertise to provide the proper expansion joint design for specific applications
Have industry experts provide excellent field service and consultation at the client's locations to ensure the installation and performance of the expansion joints are optimal
Provide complete engineering services from the start of choosing the correct expansion joint material to design, installing, operating, monitoring, and rectifying any queries for clients 
Offers the best services for gas turbine applications with flexible system requirements to maximize the performance
Provide excellent services for turnkey operations to be successful with on-site consultation, installation, and inspection for smooth running to be successful.
Supply many expansion joints, including fluoropolymer, made of the latest polymers to withstand temperatures up to 600 degrees Fahrenheit, suitable for dry and wet applications. 
AFS Joints, for the past two decades, have helped many turnkey projects by providing excellent elastomer expansion joints. They offer the best expansion joint design and use the advanced FDA-approved elastomers for building systems that continuously run between 400 to 1200 degrees Celsius.