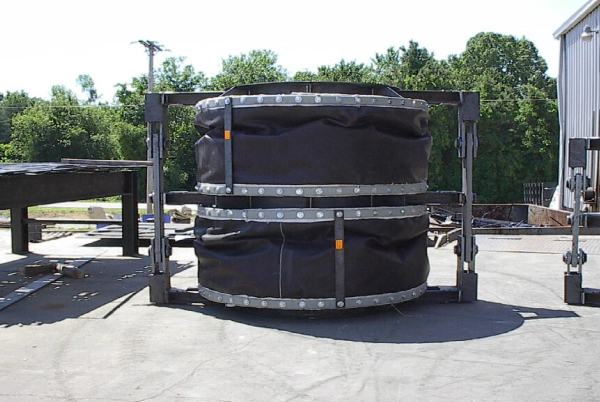 Bellows Expansion Joints Manufacturer and Supplier in the United States
Metal bellows are manufactured to ensure adequate thermal movements. This is important to ensure adequate movements of piping systems. With the best expansion joints manufacturers you can get a custom design that takes lower space than those required by expansion loops. The designs of these custom expansion joints are governed by Expansion Joint Manufacturers Associated (EJMA). These are expressed in the form of standards like ASME B31.1, B31.3, etc. along with Boiler and Pressure Vessel Code (BPVC).
What is the Advantage of Using Flexible Expansion Joints? 
All forms of the Flexible Expansion Joints materials have a well-defined pressure and stress limit. These are identified by expansion joints suppliers using codes. This is important as the Bellows Expansion Joints have spring rates, cycle life and movement.
Due to their defined limits for stress per materials, bellow expansion joint manufacturers help your business to manage temperatures from -200 Celsius to 982 Celsius. Further the best expansion joints manufacturer's help in designing the appropriate system needed to control the industrial pressure. This means that custom expansion joints can handle full vacuum to extreme industrial pressures with ease.
Further, the expansion joints suppliers will also provide the best hardware to retain the entire pressure to the elements. These include – 
Tie rods
Gimbals
Hinges
Lugs, etc.
Further the same can be designed into a piping system that includes – 
Anchors
Guides
Hangers, etc.
Further, the Flexible Expansion Joints can be lined using high-quality materials to ensure that the corrosion resistance is reduced and the pressure retaining capacity is maintained.
What are Custom Expansion Joints?
Keeping facility and equipment maintained at all times is important. Lack of alternatives and aid from the top expansion joints manufacturers can jeopardize the goal of maximizing uptime.
With years of thermal cycling, foundation settling, etc. the pump and piping can be disoriented. Piping engineers recommend using Bellows Expansion Joints to accommodate the pressure.
Unless you have the best custom expansion joints, misalignments can occur and the existing type of joint may no longer prove to be a useful idea.
Even if you attempt to use the aid of an average bellow expansion joint manufacturers, the same can cause problems. Only the right Flexible Expansion Joints can help you to replace a permanently misaligned joint with an original part. They also help you to manage aspects like reduced service life, missed expectations of new joints, etc. Determining the best expansion joints supplier can help you to accommodate special needs and requirements while maintaining reliability. On the other hand, the original Bellows Expansion Joints can no longer be useful for the disoriented connection. This limits the reliability and durability.
Types of customization
 With the best expansion joints manufacturers you get access to custom expansion joints designed especially to handle your unique requirements. These can help you to achieve the right results especially –
Withstanding the pressure
Retention of the rigid design
Maintaining ideal pressure balance
Durability and reliability
Absorb misalignments
However even the best Flexible Expansion Joints procured from the top expansion joints suppliers can have limits to the overall flexibility and damage control. These Bellows Expansion Joints can connect the misaligned joint, deliver operational efficiency and defer expensive system replacements.
Have questions regarding our products or need a quote? ​