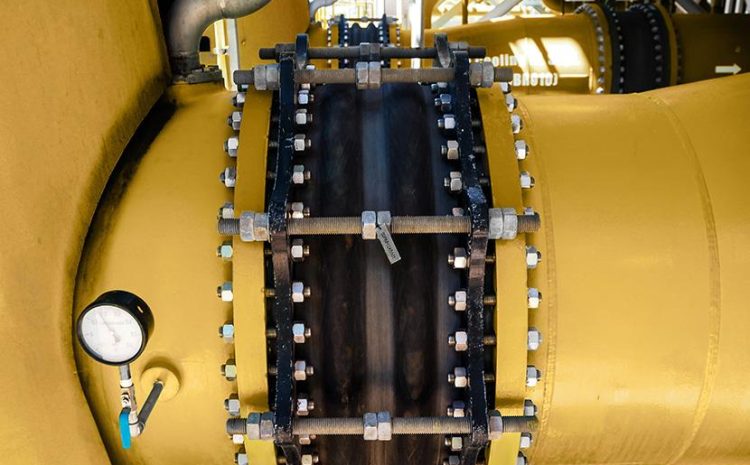 Are you looking for an expansion joint that offers superior performance and durability? If so, Viton expansion joints may be the perfect solution for your needs.
Viton is a fluoroelastomer rubber material that offers superior properties when compared to other rubbers. It has excellent resistance to both heat and chemicals, making it ideal for high-performance applications in a number of industries.
What is Viton Expansion Joint?
Viton expansion joint are tubular connectors used to join two separate piping systems together. They work by allowing for axial, lateral or angular movement between two sections of pipe. This allows for the expansion and contraction of the piping from pressure changes or temperature fluctuations, reducing stress on the pipe and eliminating the risk of leaks.
Why Choose Viton Expansion Joints?
This joints is made from Viton fluoroelastomer rubber, a material known for its superior resistance to heat, chemicals and harsh environmental factors. This makes them an ideal choice for harsh environments such as those found in the petrochemical or food processing industries.
Viton expansion joints are also highly resistant to ozone and UV light, meaning they are suitable for outdoor applications. They also have excellent electrical and mechanical properties, making them ideal for vibration isolation or even as resistance to static electricity.
Benefits of Viton Expansion Joints
There are several benefits associated with using Viton expansion joints over other materials such as EPDM or neoprene:
Resistance to Heat and Chemicals
As already mentioned, one of the biggest advantages of Viton expansion joints is their resistance to both heat and chemicals. This makes them ideal for use in high-temperature and/or chemically aggressive environments.
Viton expansion joints are designed to retain their performance in extreme conditions, including temperatures up to 200°C (392°F). This makes them suitable for a wide range of applications, from automotive to aerospace.
Viton expansion joints are incredibly durable and have excellent resistance to wear and tear. This makes them ideal for long-term use in high-performance applications.
Despite their superior features, Viton expansion joints are still relatively cost-effective when compared to other materials such as EPDM or neoprene. They also require less maintenance than other materials, which further reduces costs over time.
Applications of Viton Expansion Joints
Viton expansion joints are popularly used in industrial applications. They provide an effective and efficient way to accommodate the thermal expansion and contraction of piping systems.
Their flexible design also prevents piping systems from experiencing vibration that could cause structural damage. The installation of Viton expansion joints can provide your facility with many advantages.
Viton expansion joints can be used in a variety of industries, from automotive and aerospace to food and beverage. Some of the most common applications include:
Viton expansion joints are commonly used in automotive applications such as exhaust systems. They offer excellent performance in high-temperature environments and are designed for long-term use.
As well as automotive applications, Viton expansion joints are also used in aerospace for a range of purposes including airframes, fuel lines, hydraulic systems, and electrical wiring.
Viton material is often used in food and beverage processing equipment due to its resistance to temperatures up to 200°C (392°F) and its excellent durability.
Viton expansion joints are ideal for use in chemically aggressive environments due to their chemical resistance and long-term performance.
How to Select the Right Viton Expansion Joints
When selecting a Viton expansion joint, there are several key considerations to keep in mind.
It's important to select an expansion joint that is suitable for the application and meets any dimensional requirements.
Make sure the material of the expansion joint is compatible with other components in the system, such as fluids or gases that will be present.
Consider the temperature range of your application and make sure you choose an appropriate product.
The pressure rating should be taken into account when selecting an expansion joint – it must be able to withstand pressure from media passing through it.
Conclusion!
Viton expansion joints are an essential component in a range of industries, from automotive and aerospace to food processing and chemical. Selecting the right product can be tricky, so it's important to consider the size, compatibility, temperature range and pressure rating of any expansion joint you plan to use. With the right Viton expansion joint in place, your application will enjoy a reliable performance for years to come.
When choosing a company to purchase from, make sure to look for reliable service and support. With the right product, you can be sure of a durable system that will benefit your application for years to come.
With AFS Joints, you can rely on quality products and excellent service to get your Viton expansion joints that will meet all of your requirements. We provide comprehensive product data sheets and installation guidance as well as expert customer support – so whatever your needs, we've got you covered!
Have questions regarding our products or need a quote? ​